Beauty News
GET THE LOOK – MILAN FASHION WEEK
So for the past two weeks we have been girl crushing and envying over NYFW & LFW attendees, designers and top models from around the globe. From the Kardashian clan slayin' at Yeezy Season 4 to Hailey Baldwin opening Julien Macdonald SS17 IN GLITTERATTI STYLE it's literally all been happening.
And now we move onto Milan Fashion Week where all the top Italian designers and clothes fairies have been showcasing their latest collections. Our favourite show so far HAS to be the Fendi show featuring American sweetheart sistas' Gigi and Bella Hadid. The glitter lips were all goals everythaang, a beauty trend we see playing out from Christmas party season to Ibiza 2017. So wana know how to recreate the look? We've got your back girl..
 ♥Step 1.
Prime those lips!
 Start by scrubbing your lips gently with a toothbrush and some lip balm to remove any dry skin. This creates the perfect base.
 ♥Step 2.
Lets take it to first base.
  Add a light layer of foundation or powder over your lips so you have a base to work on. This will then allow you to build up a stronger colour on top for more IMPACT.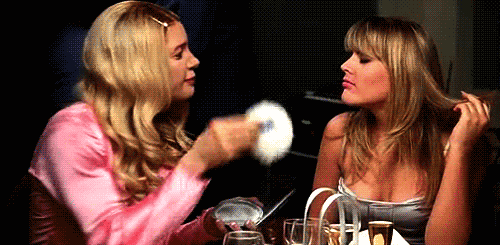 ♥Step 3.
Choose your colour babe.
   If you're going for a nude / pink lip we suggest using silver glitter for a light playful look. If you're going all out for that AW16 berry lip a darker gold or red glitter will look babe'n with this colour.
 ♥Step 4.
Let the glitter rain down!
 Firstly add some gloss over your lipstick to make sure the glitter sticks! Then dab your finger into the glitter and apply lightly over the lips, building on top where needed.
 ♥Step 5.
PARTY. Head to the club and thank us later…
9